I know that several of you guys are desperately waiting for the Garden of Roses-Square Pattern. I'll ensure that it'll be coming hopefully rather sooner than later however at the moment I'm trying to spend most of my free time clearing our own garden rather than sitting indoors in front of my computer (which I'm doing enough during my day job). But to shorten the waiting time a little bit I've got a special treat for you today.
When playing about with the pattern drafts for the Garden of Roses- Square I ended up with several prototypes of different sizes of roses. So far I've only done the more traditional type of crochet roses, where you essentially crochet a wavy band, which you then sew together. But as I hate sewing in ends, and especially sewing things together, I really wanted a no-sew rose. (so yes this is a big hint as the rose in the square is no-sew too!).
As my friend's little one really loves hairbands I decided that it was about time that she should show off some crochet in her hair and made good use of one of my prototype flowers.
No sew rose children hair band pattern
You'll need:
hair band in the colour of your choice
DK cotton yarn (I used Cascade Ultra Pima in Natural)
4 mm hook
super glue

Abbreviations
ch= chain
sc= single crochet (US term); double crochet (dc, UK term)
st= stitch(es)
hdc = half double crochet (US term); half treble crochet (htr, UK term)
In my patterns UK terms are always given in brackets.

Make Magic ring, ch 1
Round 1: 6 sc (dc) in magic ring. (6 st)
Round 2 (in back loops only): 2 sc (dc) in each st around. (12 st)
Round 3 (in back loops only): *2 sc (dc), sc (dc) in next st*, 6 times (18 st)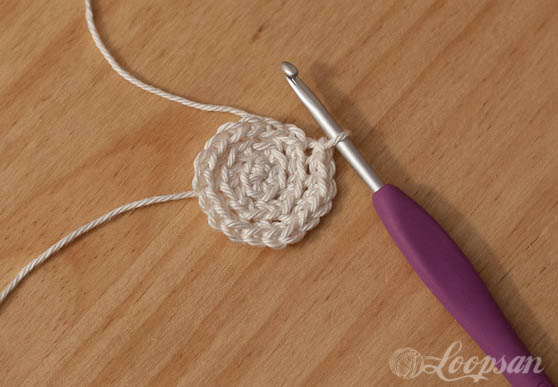 sl, ch 1 turn
Round 4: going back to the centre *sc (dc), ch 2, skip 1 st*, 17 times sc (dc), sl (18 st)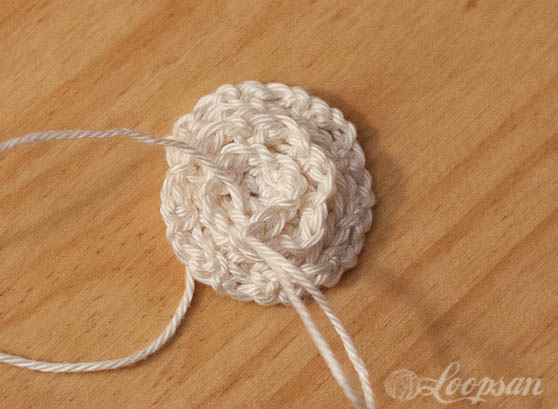 Round 5: *3 hdc in first ch2 space, sc in next ch 2 space*, 4 times *4 hdc in ch2 space, sc in next ch 2 space*5 times, sl in ch 1 space
fasten off and weave in ends
attach to hair band with some superglue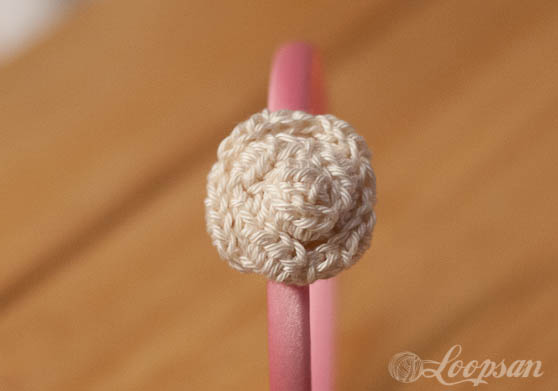 And you're done :)
Due to the lack of a little one acting as a model for this headband I used my water bottle cover instead (yes I do have a cuddly toy waterbottle cover :))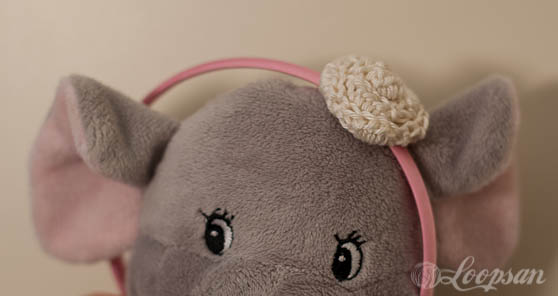 I think the elephant is showing the headband off nicely.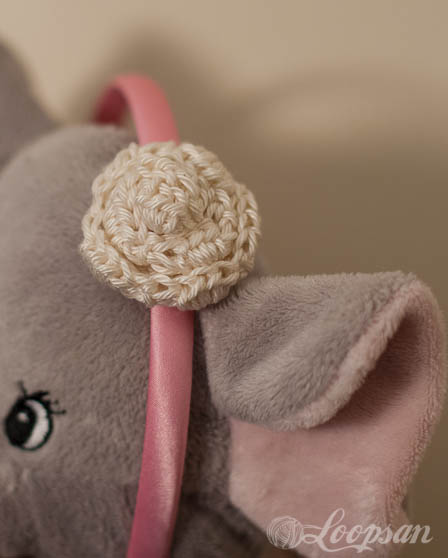 I hope with this quick tutorial I could make the waiting time for the Garden of Roses Square pattern a bit more bearable and I would love to see how your rose turned out if you feel like making one. So please feel free to post a picture to my Facebook wall or link the project to your Ravelry account. And don't forget to follow me on bloglovin to stay updated on what's happening here.
Stay updated and receive exclusive discount codes in your email inbox


Happy Crocheting!


Disclaimer: This pattern is not for resale so please do not sell it to other people. If you do use it and enjoy it, I'd be grateful for a link back to my blog and the pattern, but please don't copy and paste it to your website or copy my pictures. You're allowed to sell finished items created with the pattern, but please do give me credit as the designer (link back to the blog when selling online). Thank you!