Hope you had a lovely bank holiday Monday. I can't believe that it's already May! 2015 seems to fly away in a blink of an eye and my to-do list seems to rather be piling up than down. It's been rather quiet on my blog but I'm hoping that in the next couple of weeks I'll get the chance to finally write up the patterns which are screaming in the corner "write me up PLEASE" but still unheard of.
At the end of March, my good friend Dedri posted on her blog about the Deramores Blog Competition 2015. If you're an eagle-eyed blog reader you might realise that actually last year I participated in the Deramores Blog Competition with my happy sheep badge pattern. So it didn't take much convincing from Dedri to want to participate in this year's one as well. Like last year, the super amazing price is a yarn pack worth £500, which would be fabulous to win especially after being on a strict yarn diet after I spent too much money on my yarn for the Sophie's Universe CAL.
This year's contest is a bit different to last year. 6 bloggers posted their predicted trend for this year and since I'm "hooked" with Sophie at the moment there was no question whose trend I'm going to turn into a pattern.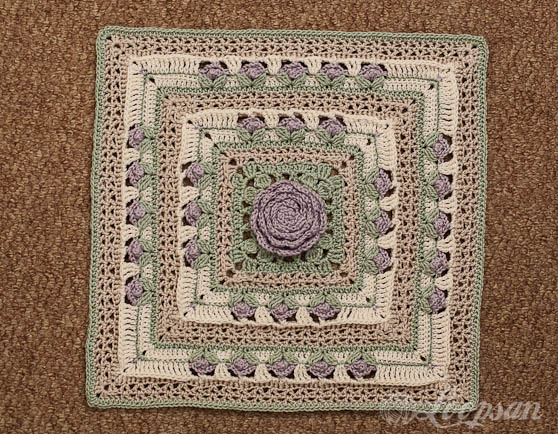 Dedri's trend for 2015 is big crochet squares and my garden of roses square is exactly that. Even though Dedri is talking about crochet squares in a gazillion colours, if you look around my blog you'll notice that I'm a bit OCD about gazillion colours. And as the square had to be done in yarn from my stash I used Cascade Ultra Pima in Natural, Buff, Seagrass and Purple Ice (which means it'll match my Sophie ;)) It measures 18 inch across but it can easily be grown bigger (especially when made in a thicker yarn than my Cascade version.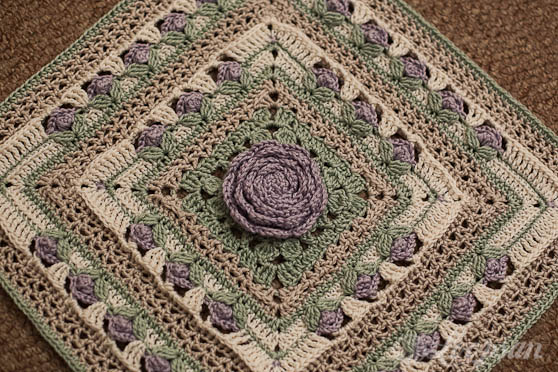 As everything is about Sophie in the wide crochet world you as well might recognise where the inspiration of the rose-stitch is coming from, which means that my garden of roses is actually a Sophie tribute!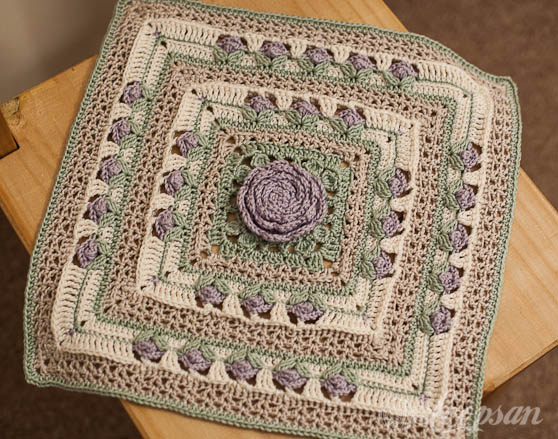 The pattern is currently with testers but I hope that it'll be up on my blog (for free of course!) fairly soon. I'm also hoping that by then I'm able to update you with some yummy pictures of it in a nice garden rather than on a boring chair, which seems to be currently the only place left (without any moving boxes) with some decent light in my apartment.
Stay updated and receive exclusive discount codes in your email inbox


Happy Crocheting!