I love Minions! I can't describe how much I do but they're the coolest thing on earth! I already made my big Minion amigurumi but I wanted something on the go. And what's perfect for this? A phone case :).
Minion-inspired phone case pattern
You'll need
yarn in yellow, blue and black (I used Hayfield Bonus DK)
5 mm crochet hook
2 sew on wobbly eyes (I prefer sew ones but the ones which you glue on will do the job as well)
tapestry needle
Gauge: is not important as long as you keep it consistent within the project, I'll explain how you can fit it to your phone in case yours isn't an iPhone

Abbreviations
ch= chain
sc= single crochet (US term); double crochet (dc, UK term)
st= stitch(es)
hdc = half double crochet (US term); half treble crochet (htr, UK term)
In my patterns UK terms are always given in brackets.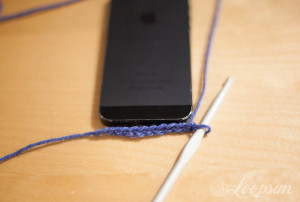 Round 1: Ch 10. Compare this with the width of your phone. When its the same width as your phone you're on the safe side if not you might have to adjust the length of your chain row. (the finished item has a little bit of "play" but you don't want to be too far off.
Round 2: sc (dc) in second ch from hook, sc (dc) in each st until end of ch. 3 sc (dc) in last st. Working on the other side of ch, sc (dc) till end. Make 2 sc (dc) in last st, join.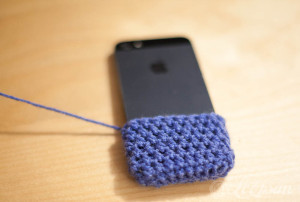 Round 3-8: Ch 1, hdc (htc) in each st around, join.
The blue bit should be now roughly 1/3 of your phone height if not keep on doing rounds until you've reached that height.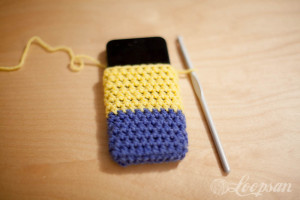 Change to yellow
Round 9-15: Ch 1, hdc (htr) in each st around, join.
The yellow bit should now be the same size as the blue bit, if you had to add some rounds before add more here until you've reached that size
Change to black
Round 16: Ch 1, hdc (htr) in each st around, join.
Change to yellow
Round 17-20: Ch 1, hdc (htr) in each stich around, join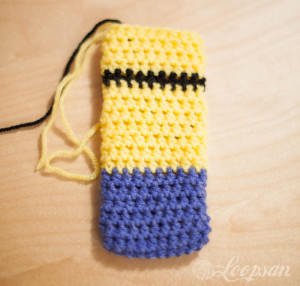 Once again depending on your phone size you might need to adjust and add a row or so to finish reach your phone height.
Fasten off, weave in ends.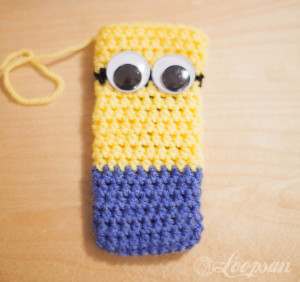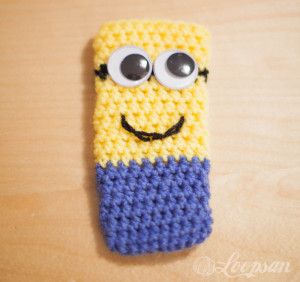 Securely attach the wobbly eyes and give your little one a big smile with some black yarn.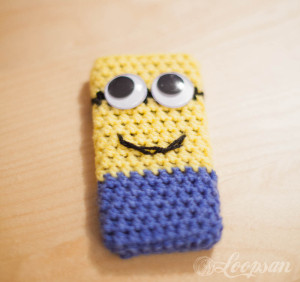 Enjoy your new phone case :) It would be lovely if you could send me a picture of your finished phone case :)
You want to stay updated on what's happening here? Why not sign up to my
newsletter
to stay updated and receive exclusive discount codes into your email inbox.
Happy Crocheting!

Disclaimer:  I do not own any copyright for the minion and this pattern is only for your personal use. This pattern is not for resale and please do not sell it to other people.. If you do use it and enjoy it, I'd be grateful for a link back to my blog and the pattern, but please don't copy and paste it to your website or copy my pictures.  Thank you!