Challenges are fun! Yeah sometimes you have to be a little bit competetive. And they're even more fun, when you can be creative. Even though this time I might have been too creative and actually turned it into something else ;) Myhobbyiscrochet is hosting a Christmas Hat Challenge at the moment. You have to turn one of her patterns into something Christmassy. All of the hats, which were entered so far are very cute but I wanted to make something different. I noticed that more or less all the hats are made for girls. For sure girly hats are usually cuter than boys hat but I wanted to create something which a boy might wear and not instantly run away :). Even though in the end I gave the hat to my lovely female colleague so it's actually an unisex hat ;).
Christmas Hat Pattern
You'll need:
7 mm hook
4 mm hook
1 ball of chunky yarn in oatmeal colour (I used Hayfield Bonus Chunky), if you want to make the hat for an adult you need more than one ball
1 ball of chunky yarn in white for the pom pom (or any other yarn you want to use for it)
DK yarn in white, green, dark brown, red and orange for the applique
tapestry needle
Hat
The hat was based on the Swirling Rip pattern by Myhobbyiscrochet.
My modifications were:
ch 12 less than given in the pattern as I used thicker yarn and a bigger hook. Test after your first round if the hat fits if not ch either ch 4 more or take ch 4 more off the pattern. Just make sure, as she says as well, that you're changing the ch's by a cluster of 4 otherwise the pattern won't work.
I needed less rounds to reach the desired height before decreasing but that doesn't matter
when decreasing I did 4 decreasing rounds in a row not like given in the pattern
That's your hat basic done :)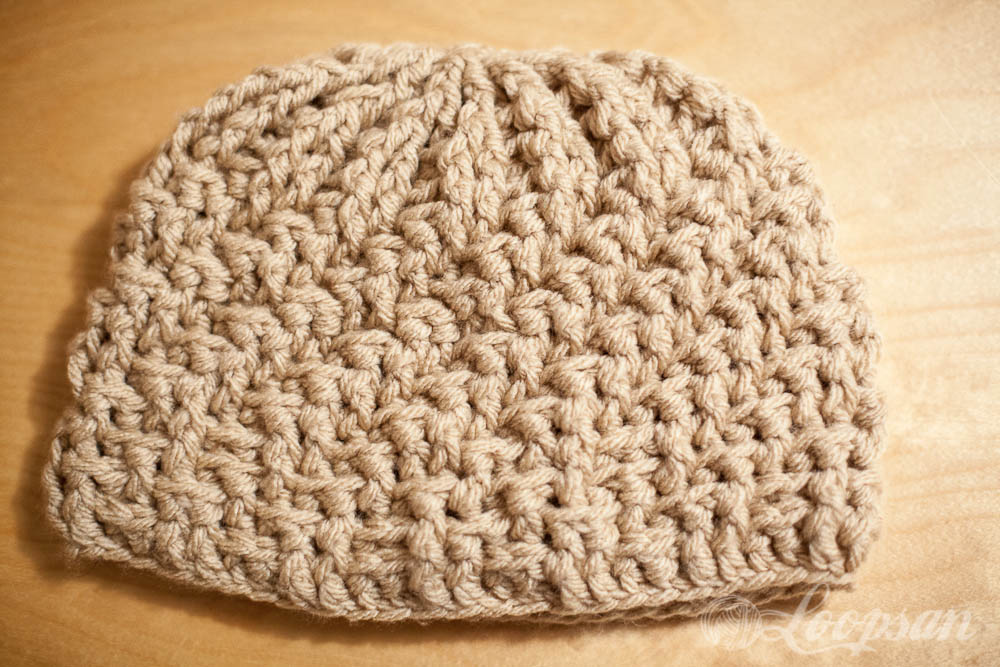 So now we're going to decorate the hat :)
First I started of with one small granny tree. There are lots of granny tree patterns available so this idea is definitely not new. I just haven't seen two coloured granny trees so far. Mine got it's scalloped edges after two rounds.
Mister Snowman is made up of two different size circles. Again nothing too complicated. The body part is made up of 8 stitches in a magic ring and two increasing rounds, while the head part is made up of 6 stitches in a magic ring with one increasing round. Scarf is made of single (double UK term) foundation stitches until desired length was reached.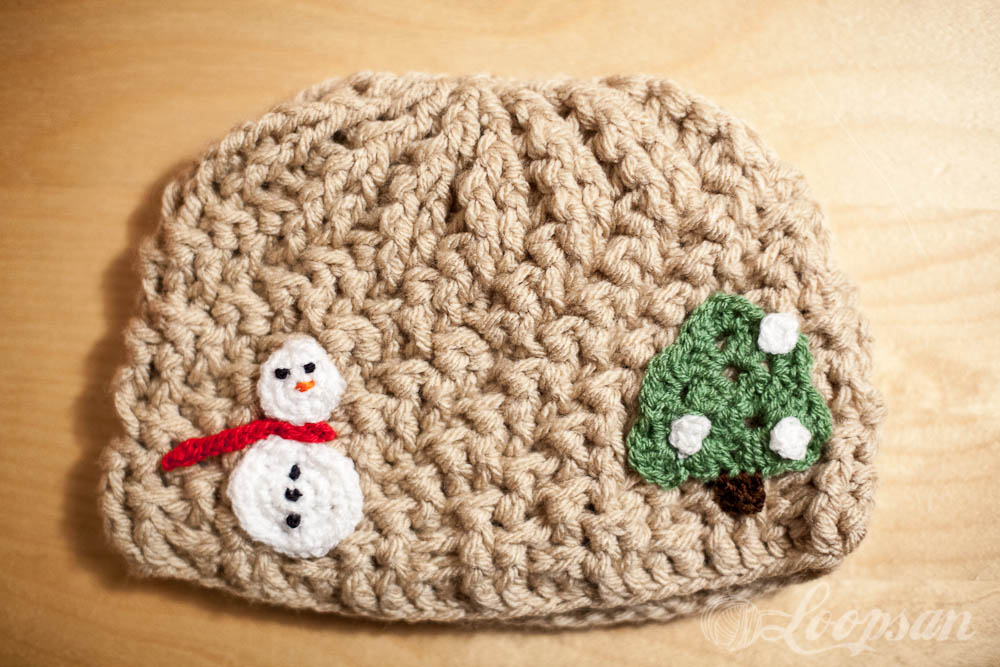 I found that the hat was still a bit plain like this so I added some snow. Snow is made up of between 4- 6 half double crochet (half treble crochet UK term) stitches in a magic ring.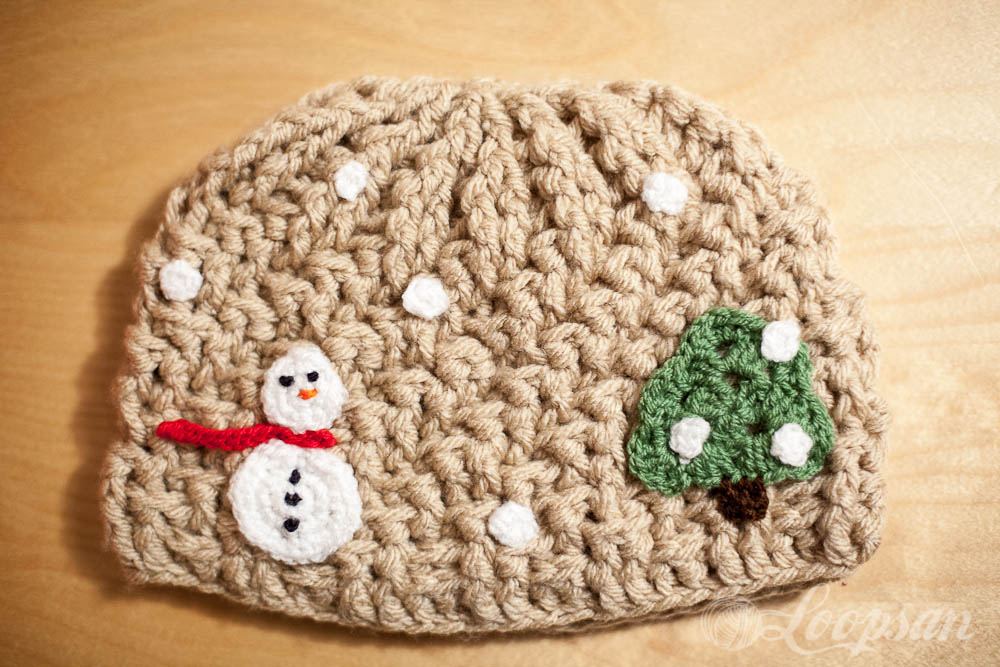 Better :). Now to the back :) The back of the hat was still plain and to add a little bit of interest I added a bigger version of the snowman from the front. Instead of single (double UK term) stitches he is made up of half double (half treble UK term) stitches.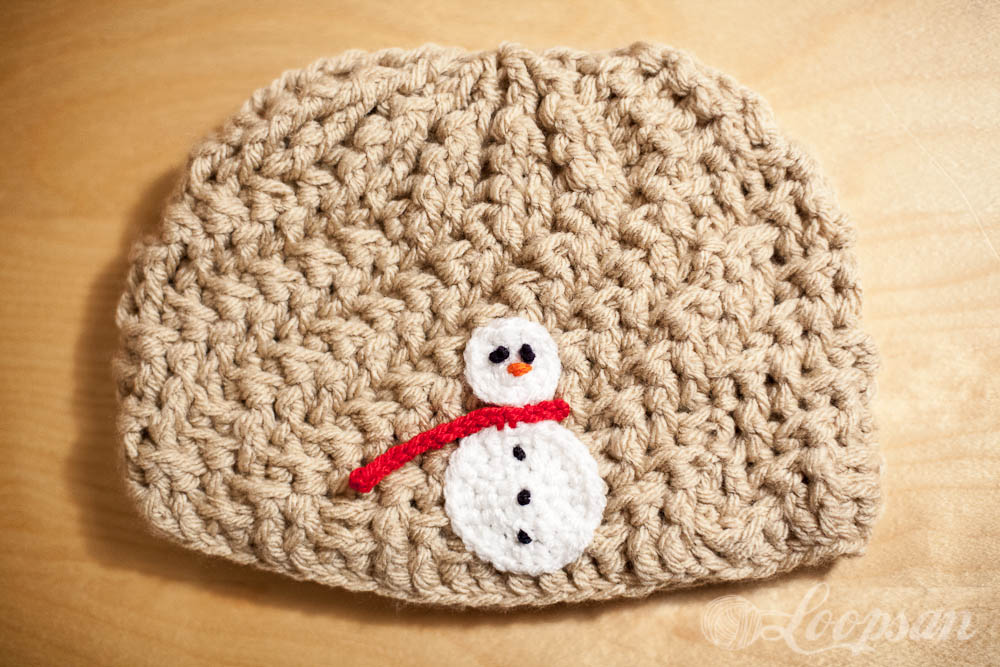 Add some snow and a big pom pom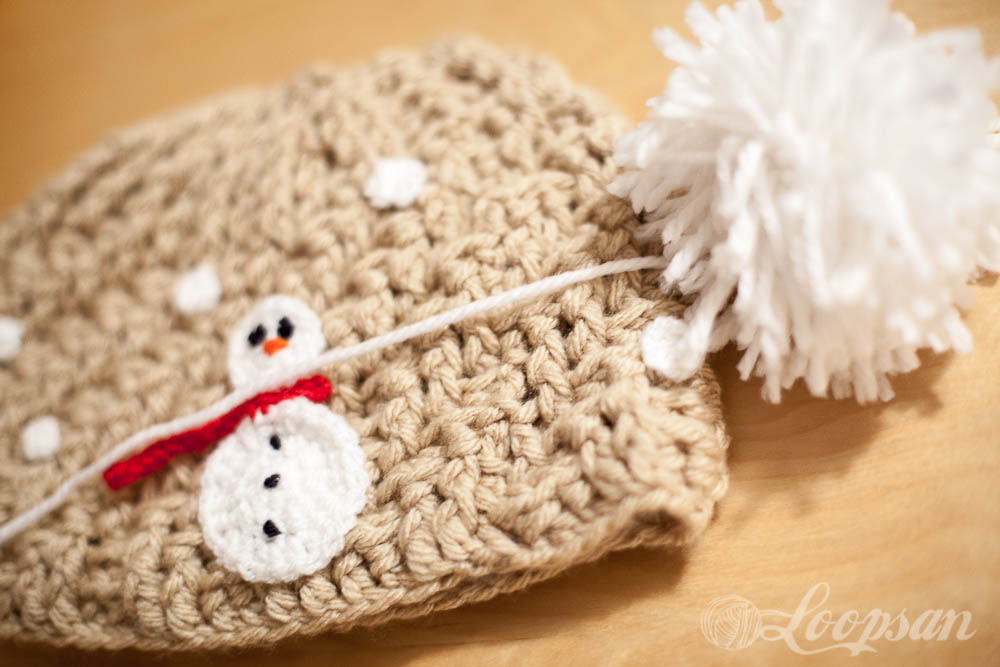 Done :)
Front view: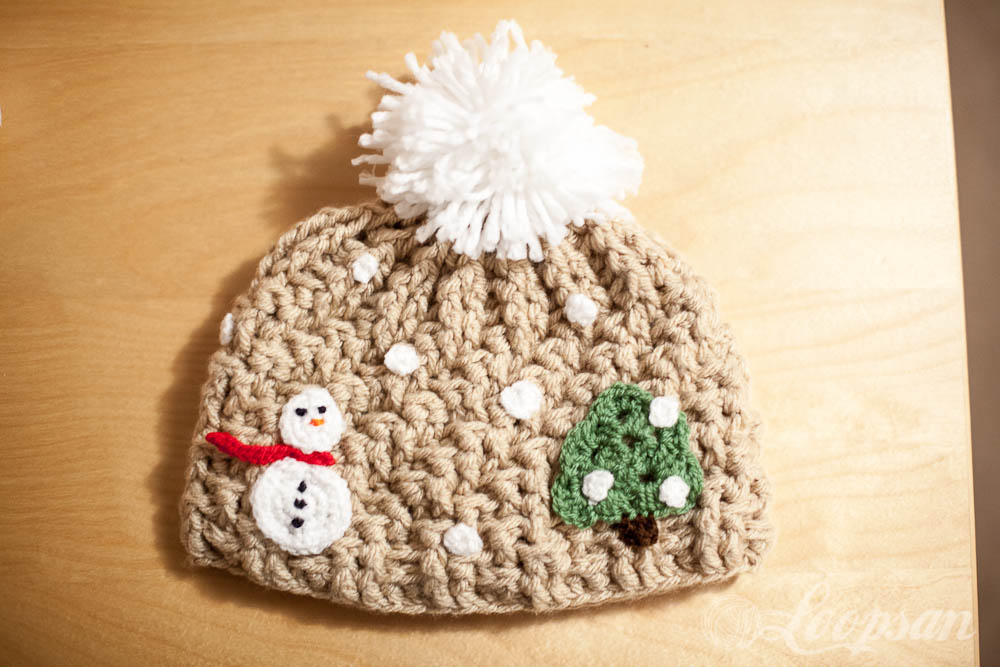 Back view: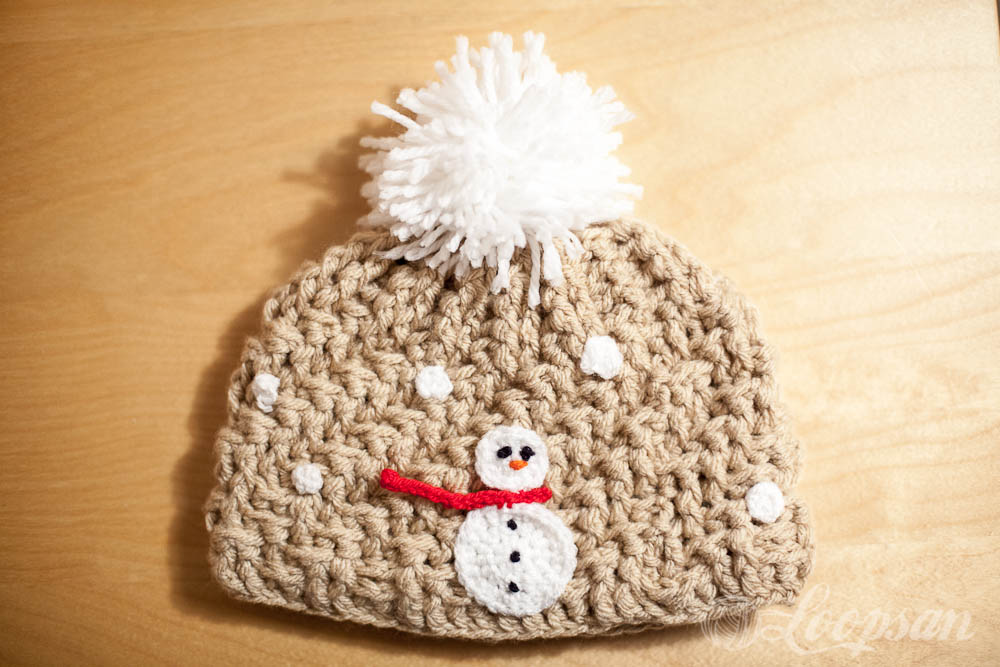 And the happy new owner of the hat :)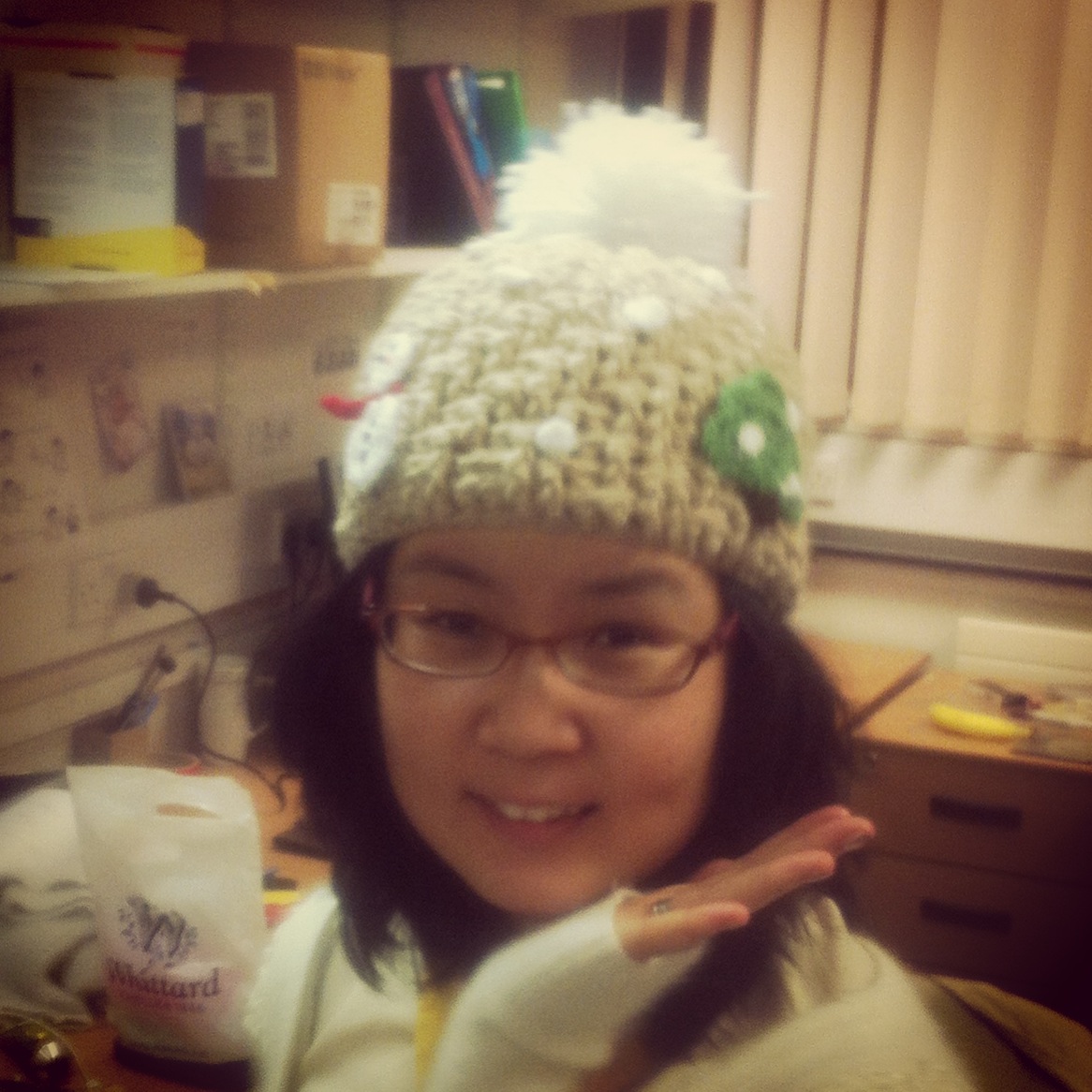 Happy Crocheting!