When I made my first Elfus last year my boyfriend kept on telling me "That's not an elf that's a gnome", so even when Elfus got a bit smaller for his mini-version he still kept on saying that they look like gnomes. So it was about time that I'm going to turn the little Elfus pattern into something, which looks more gnome-like (at least in my world ;)). You might think that you've seen this little fellow somewhere before. He was actually my July contribution to Craftaholics Anonymous.
Amigurumi Gnome – Free Pattern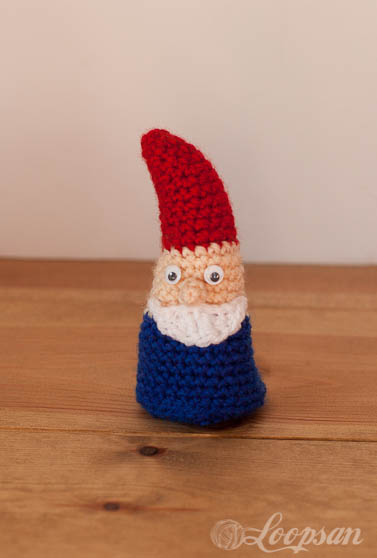 You'll need:
DK yarn in blue, red, white and "skin colour"
4.00 mm
polyfill
wobbly eyes in your prefered size
tapestry needle
Gauge: not important you just might want to go either up or down a hook size when you crochet too tightly or too loose (you can test it by crocheting the first 4 rounds and push a little bit of polyfill behind for checking if it's visible or not. If it is reduce your hook size, if you're having problems inserting your hook into the stitch of the previous round go up by a hook size).
The whole project is done in rounds, do not join at the end

Abbreviations
ch= chain
sl= slip stitch
sc= single crochet (US term); double crochet (dc, UK term)
st= stitch(es)
hdc = half double crochet (US term); half treble crochet (htr, UK term)
dc = double crochet (US term); treble crochet (tr, UK term)
sc2tog= single crochet decrease (US term); double crochet decrease (dc2tog, UK term)
In my patterns UK terms are always given in brackets.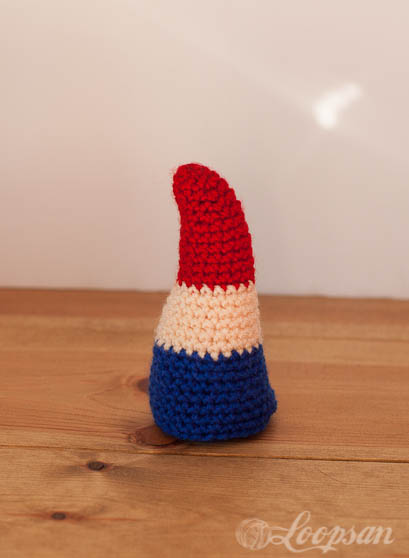 Make one mini Elfus, just replace the green yarn with red and blue.
Beard
with white
ch 11
Round 1: in second ch from hook sl, sl, sc (dc), hdc (htr), dc (tr) in next 2 st, hdc (htr), sc (dc), sl in next 2 st
fasten off and sew onto your gnome.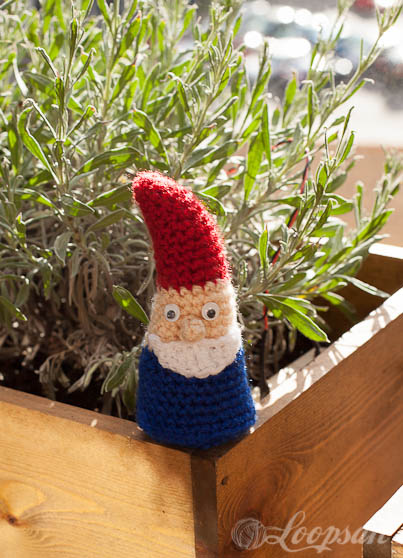 Due to the lack of my own garden at the moment the gnome ended up on our balcony. Think he is looking pretty happy there.
I hope I've inspired you to make your own Amigurumi Gnome and I would love to see how he turned out so please feel free to post a picture to my Facebook wall or link the project to your Ravelry account. And don't forget to follow me on bloglovin to stay updated on what's happening here.
Stay updated and receive exclusive discount codes in your email inbox


Happy Crocheting!


Disclaimer: This pattern is not for resale so please do not sell it to other people. If you do use it and enjoy it, I'd be grateful for a link back to my blog and the pattern, but please don't copy and paste it to your website or copy my pictures. You're allowed to sell finished items created with the pattern, but please do give me credit as the designer (link back to the blog when selling online). Thank you!