Who doesn't love to stroll through the craft book section in a book shop. All those digital patterns aside I really love books and when I stumble across a book which I like it's usually pretty difficult to say no to it. The problem is that usually I buy a book and then it ends up standing really pretty on the blog shelf not really being touched as I don't find the time to make "THE ONE" pattern I bought the book for. So now I've set myself a challenge that within the next year I should have made at least one item out of each individual book I own.
I bought this book with an idea in mind. My friend just had her little one at that stage and I wanted to make something for her new addition but wanted her to choose what I should make for her as I couldn't decide myself. The only problem was that my friend felt the same and more or less every pattern resulted in "ohhh thats lovely" or "ohh so cute". So in the end I decided to make two things. One very cute dress and one blanket. Even though the blanket is still a big WIP so nothing to show off yet, sadly.
Pink Lemonade Dress
from: Comfort Knitting & Crochet Designs using Berroco's Comfort and Vintage Yarns by Berroco Design Team (find it on Amazon)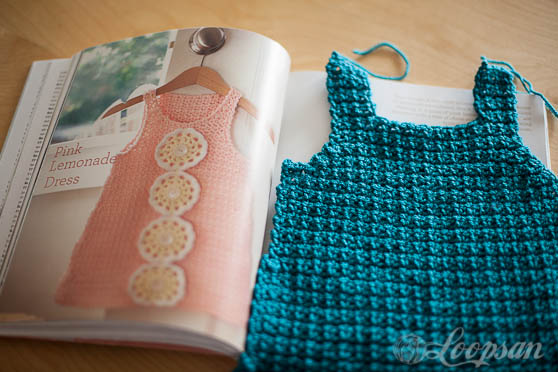 As you can see the original pattern calls for a pink main colour, which is why it's called Pink Lemonade. But as Berroco Yarn is really hard to come by in the UK I used Stylecraft Special DK in teal and gold and a 6 mm hook.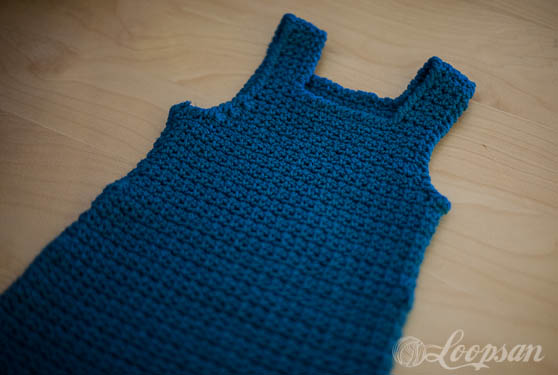 The pattern itself was whipped up rather quickly and can be easily done by an advanced beginner and is a perfect project to take on a train commute! ;)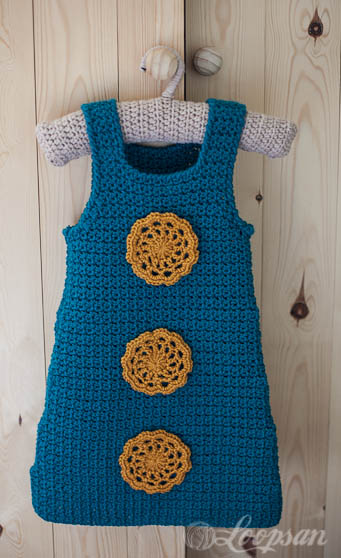 In the end, I only put three flowers onto the dress as I thought it would otherwise appear rather busy when only made for a small person.
Over and all I really enjoyed making this dress. The book comes with loads of pattern choices (with something for every skill level!) and is luckily not as "knit-heavy" as other books which contain both knit and crochet patterns, so you won't get sad when you're not able to knit.
I hope you enjoyed the little inside view into my "bookshelf" and maybe I've inspired you to experiment a little bit with colour the next time you follow a pattern as it can change its complete look.
Stay updated and receive exclusive discount codes in your email inbox


Happy Crocheting!


Disclaimer: No-one asked me to write a review about this book and I paid for it with my own hard-earned cash. This post contains affiliate links, which will help to sustain my blog.