My ultimate guide to crochet hooks compiles all the information you will ever need to know about crochet hooks in one simple space:
One of the first questions a crocheter might ask themselves is what hook do I need. Can I improve my crochet through a "fancier" hook or are those at the end just gadgets that are basically the same?
Firstly the answer is you won't magically learn how to crochet with a fancier hook however the right one will make crocheting even more fun!
Therefore before you will adventure on your personal journey to find the right crochet hook for yourself you might want to check out my tips and tricks for beginner crocheters first. After you successfully managed the first basics of crocheting there is the next question to ask yourself.
How do I hold my crochet hook?
There is no right or wrong answer to this – Do what works for you – however the hook that will be most comfortable for you will depend on how you hold your hook. For the purpose of this guide I talk about two "buckets" of crocheters.
If you hold your hook so that it is fully enclosed by your palm you most likely fit into the "knife – holder" bucket. Especially when you've previously been a knitter this way of holding a hook might feel more natural to you. Even though I'm not really a knitter I still hold my hook like a knife. I learned to crochet as a child and my mum (who is a knitter taught me) so maybe thats why I never really questioned how to hold a hook. The second bucket is the "pencil- hold" bucket. You might see where I get here with. This is when you hold your hook like a pencil simple as that. Knowing how you hold your hook before venture on the look out for your perfect hook will safe you loads of hassle. Especially when you're lucky to have a yarnshop closeby. Try before buy will safe you money as you won't end up with hook that are not suitable for your hands – trust me I've spend way too much money in my crochet life before finding the hooks that really suit me.
So what crochet hook options are there out on the market?
Not surprisingly there are plenty of hooks on the market. And as with yarn not every hook is suitable for every purpose. Even though from a basic anatomy crochet hooks are the same, there are subtile differences in the shaping of the head of the hook that can change how your yarn passes along the hook and also how easy it is to navigate stitches. Those changes are so subtile that you might not notice them at first when you do not specifically look out for them. I was wondering for some time why certain hooks worked better with certain types of yarn. And the answer is rather simple. When you look at the head of a crochet you you notice that it can be either rounded or pointed. Working a project with dense stitches is in general easier with a crochet hook that has a pointed head. While when working with yarn that might be prone to splitting it might be easier for you to use a hook with a rounded head. This will help the yarn not to be forced open – there is nothing worse than splitty yarn.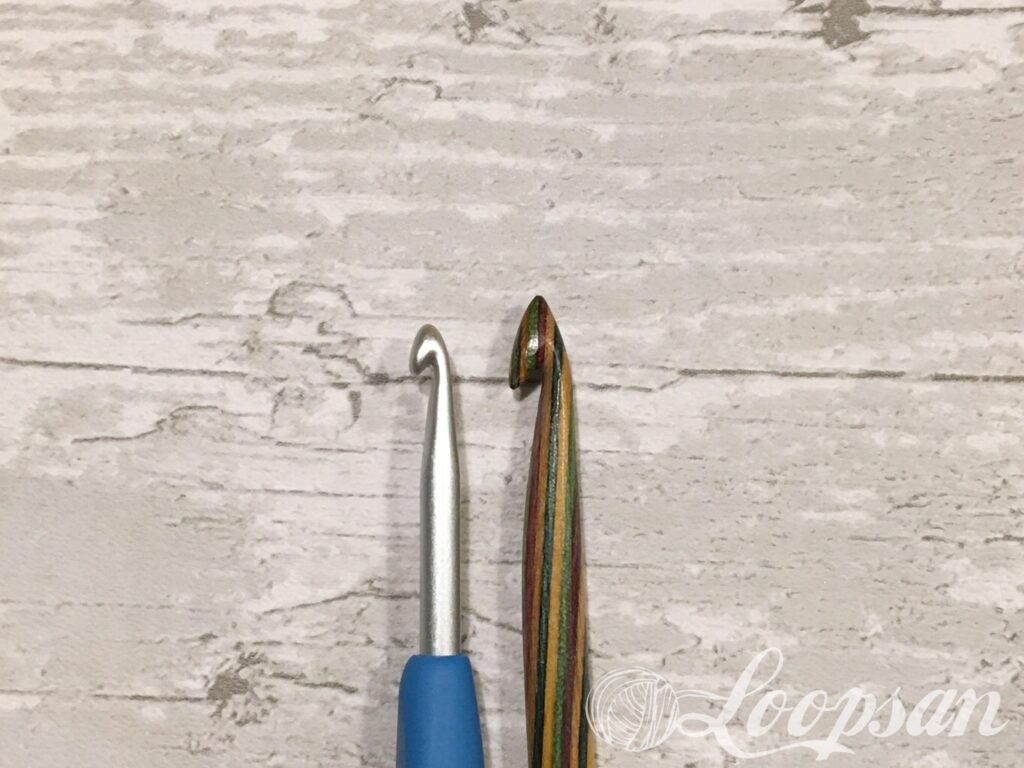 But it is not just the head that can be different. Also the part of the crochet hook just below the top of the actual hook – the throat of your hook – promise I didn't make this one up! This can be either smooth (those hooks are called tapered) or more ridget (called in-line hooks). So much choice you might think – however at the end of the day it's all about muscle memory and it doesn't really matter what hook type you go for. The majority of hooks I own are tapered hooks it feels different when I use an in-line hook but that doesn't mean that I can't use one. I also noticed that in-line hooks seem more common in the US compared the UK – no idea why.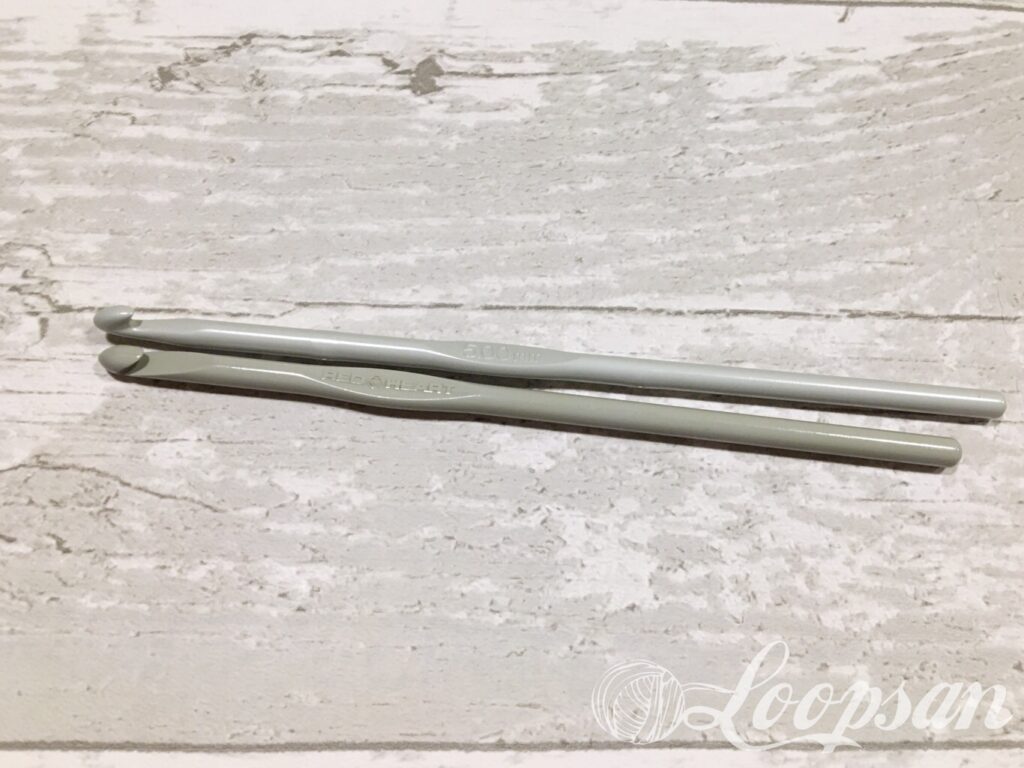 As you can see in the picture above it also doesn't stop at the throat of the crochet hook. The thumb rest can be closer or further away from the head depending on manufacturer. The hooks you can see in the picture above are both 5mm metal hooks. The first one manufactured by Red Heart, which I purchased many moons ago while on a secondment to Canada. And the second hook if from an initial crochet hook set I bought on the Rag market in Birmingham. Also interesting to note is that the Red Heart hook is shorter in general. This will be especially important when you are a knife hold crocheter as it can make the difference between the hook digging into your palm or not.
Crochet Hook Material
So now that we have established that there are different types of how the crochet hook is shaped it does not come as a surprise that there is also a great choice of different materials for crochet hooks on the market. The most popular are the following:
Metal crochet hooks
The waste majority of my personal stash are metal crochet hooks. The majority of metal hooks are made out of aluminium which means they re light weight. Only when you start looking at the smaller hook sizes usually used for highly intricate pieces like lace work is when you start to come across steel hooks. One of the benefits of metal hooks is that yarn glides easily across the hook. Something that is especially beneficial when you work with slightly furry yarn.
Pros
hard wearing
cheap
widely available
Cons
can be cold if they do not have an ergonomic handle
Wooden crochet hook
Besides metal hooks I've got a decent amount of wooden crochet hooks in my stash. I somehow prefer my wooden hooks for Tunisian crochet. Don't ask me why I don't really know why. Might be similar to preferring wooden knitting needles over metal ones? Also the biggest crochet hook in my collection is made from wood. Much nicer feel compared to something made from plastic and metal would be very heavy as a 25mm hook.
Pros
natural material
nice hand feel
Cons
can break easily in smaller sizes
Plastic crochet hooks
If it's possible for me I try to avoid plastic crochet hooks for myself. Not only for the environmental impact for it also for the usability aspect. Don't get me wrong I've used some really nice plastic hooks in the past. In fact one of my favourite 6.5mm hook to make hats was a plastic hook until it snapped. I didn't do anything particularly special just snapped in two while making a hat. A big shame as the majority of plastic hooks I've come across so far were rather nasty. You know those kits that come with magazines that contain a hook? Those are the type of nasty hooks I'm thinking of usually with added extra ridges that in worst case scenario might even snag your yarn. I rather have them not put hooks in than give the impression that this is how a crochet hook is supposed to look like.
Pro:
super light weight, which is especially important for bigger hook sizes
cheap
comes in funky colours
Cons:
break easily
might have imperfections that can catch yarn
can't be recycled
Crochet Hook Brands
As with cars there is plenty of choice out there on the crochet hook market. I made you an overview of all the different type of hooks I own and bought myself over the years. You can see I tried a couple :)
Clover Hooks
Clover Amour Hooks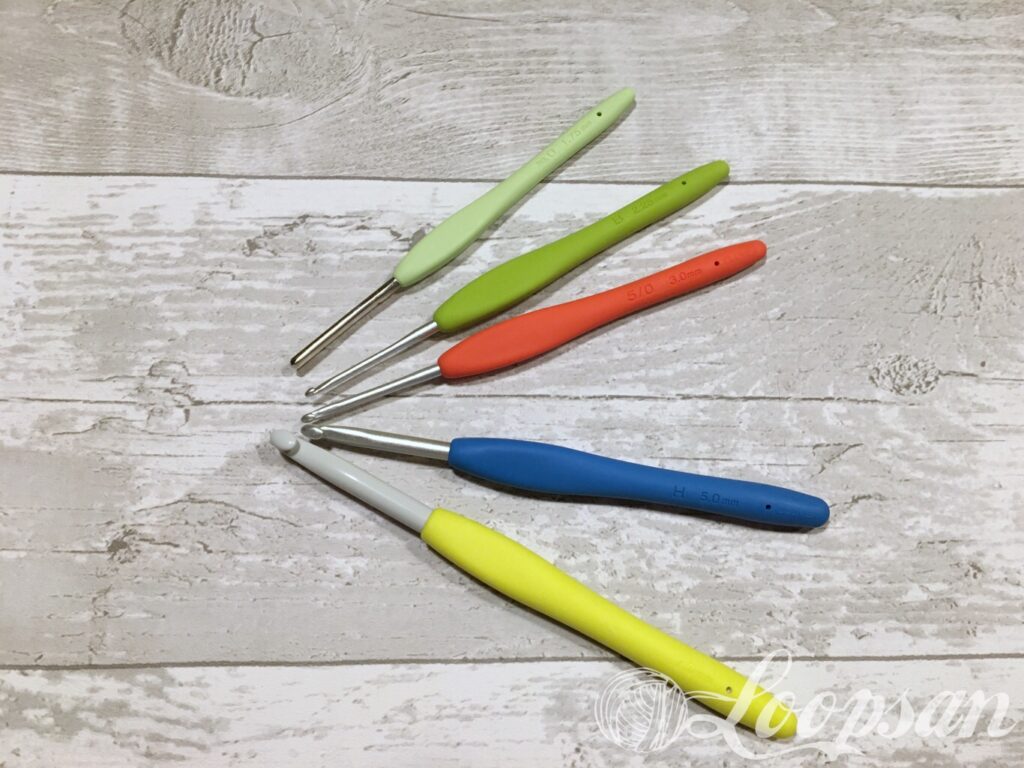 Clover Amour Hooks are by far my favourite hooks. I also like the fact that their are colour coded which makes the right hook size easier to find in a pile of hooks. I might even own two of the smaller sized sets as hooks seem to magically disappear in this household. And there is nothing more annoying than wanting to start a project and not having the right hook size on hand. You can get clover amour hooks from a range of retailers in varying sizes from 0.6mm up to 15mm. Which is great. The only downside for me personally is that from 7mm onwards the hook part is plastic and not metal anymore.
Clover Soft Touch Hooks
Clover Soft Touch Crochet hooks come with a hard plastic handle that features a rubber thumb rest. Lovely hooks, however they were a little bit too short for my liking so might not be ideal for you if you've got over-average sized hands.
Knit Pro Hooks
Knit Pro waves
Like the Clover Amour Hooks the Knit Pro Wave hooks feature a soft grip handle. Colour coded for easy identification and a metal hook made from lightweight aluminium. Really nice hooks but the handle is ever so slightly shorter compared to the Clover Amour Hooks which resulted in those hooks also digging into my palm.
Knit Pro Interchangeable Symphony Wood Tunisian Crochet Hooks
Of course every crocheters needs a nice set of Tunisian crochet hooks in their collection. The good thing is that you can use them for standard projects too as the hook themselves isn't longer than a usual hook. The cable function adds the Tunisian feature to those Knit Pro hooks and the great thing is that it's also interchangeable with my knitting needles. However this feature comes at a price – the set is the most expensive I've ever bought. Besides that another downside I see with those hooks is that the size is solely printed on means that I've got a couple of hooks I need to use a size checker for to find out what size they actually are. Luckily there are other uses for size checkers, which I will talk about later.
Addi Hooks
Addi Swing Hook
Addi Swing Hook – The Porsche of ergonomic hooks, but at the same time a marmite hook. You either absolutely look this hook that reminds me of a toothbrush or you put it to the site after one row. I personally couldn't get the handle to work for myself. Nor was I particularly keen on the short working space this hook has on offer. Especially when working bobble or popcorn stitches I need more space on my hook. So sadly my 6 mm hook has been sat rather unused in my hook collection.
Prym Hooks
Prym Crochet Hooks
I bought my set of Prym crochet hooks back in Germany. A nice little set of ergonomic hooks. They are better than standard aluminium hooks and also tend to not dig into my palm. However the rubber handle is not as soft as the Clover Amour handle, which is a bit of a shame.
Crochet Hook Sizes
After you've chosen the hook of your choice you might want to think about what crochet hook size to use for your project. As it comes with no surprise there are different sizes available. Depending on where in the world you are located hook sizes are either given in mm (representing the diameter of the shaft) or in letters. Letter representing hook sizes from small to large going further into the alphabet as the hook gets larger.
Right crochet hook size and yarn combination
The good news here is that there is no real right or wrong. If you really wanted to you could crochet super fine thread on a gigantic hook. Your end result will just dramatically differ compared to using a smaller size. In view versa if your hook is too small for your yarn you end up more likely to split your yarn which is overall rather frustrating.
The desired drape of a project will however vary from designer to designer so I recommend always making a gauche/tension swap before starting a new project to make sure you're on the right track.
In general I tend to use the following hook sizes for my design
DK: 4mm – 5 mm
Aran: 5.5mm – 6.5 mm
Chunky: 6.5 mm – 8 mm
Super chunky: 8mm – 12 mm
So now that you're all set on the hook front you might wonder how portable your projects are and how you can most of the idle time in your life – as to be honest I've never seem to have enough time in the day so need to make the most of every second.
Can I take a crochet hook on a plane?
Luckily the answer to this question is yes. I've been on many flights were I did loads of crochet to keep myself entertained. I mean inflight entertainment is great but when you are on a long haul flight you'll want to keep yourself busy by other means too. I usually make sure that the project I'm making isn't too big, so that it can easily fit into my hand luggage and also doesn't involve too many colour changes as there is only a certain limit you can have in front of you on the little table. You wouldn't really want to have balls of yarn rolling across the plane would you? The only really watch out when travelling on a plane with your crochet is that scissors are a no-no. But no need to be sad there are nifty gadgets out there who still allow you to cut your yarn safely on the plane. I'm a bit low cost and use baby nail clippers instead of an extra gadget. When you do more crochet on the go it might be worthwhile investing in some crochet hooks that you can keep on your keyring. Crochet hook keyrings might not be suitable as your to go hook but a fabulous alternative if you require different hook sizes while on holiday.
Stay updated and receive exclusive discount codes in your email inbox

Happy Crocheting!